VFW
Support the Troops...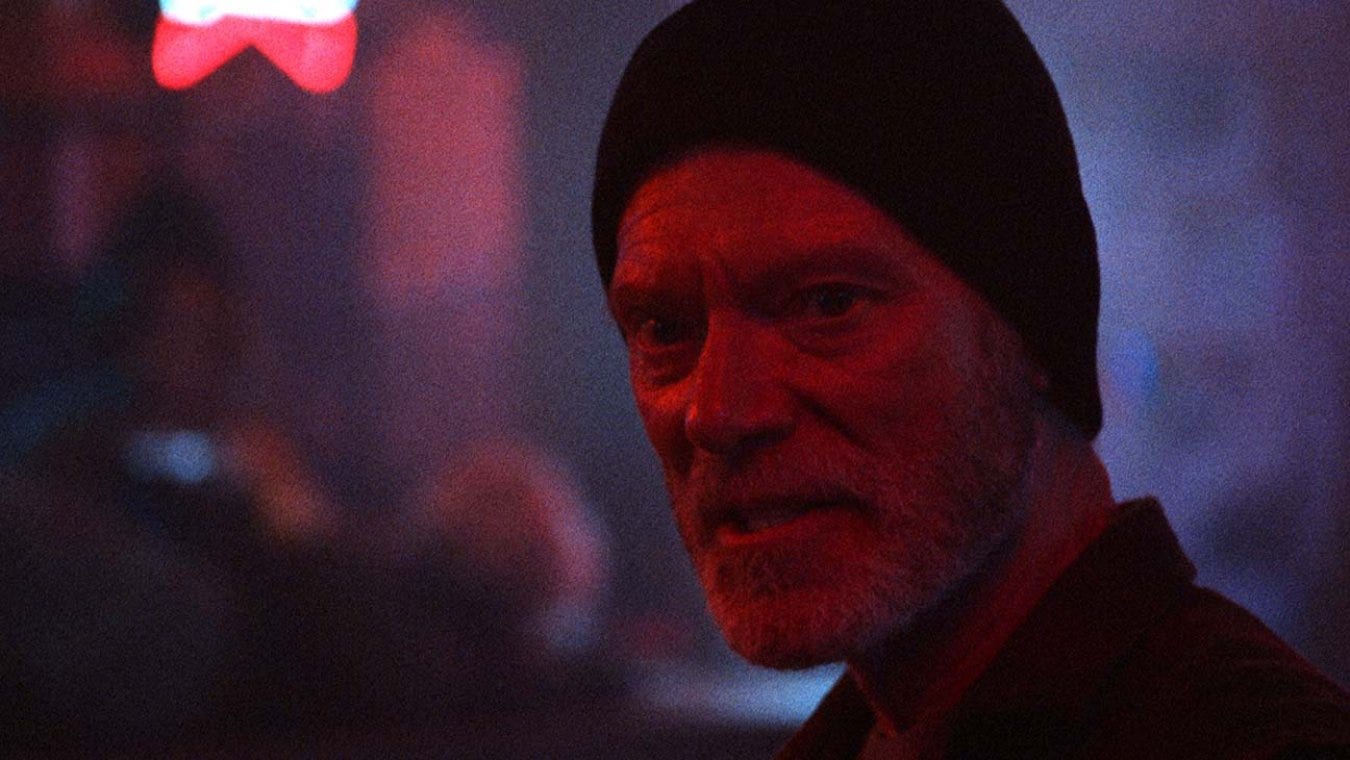 Title
Genre: Action / Horror

Release Date: February 14, 2020

Running Time: 92 Minutes

Rated: Not Rated
Behind the Scenes
Directed by Joe Begos

Written by Max Brallier, Matthew McArdle

Cinematography by Mike Testin

Studio: RLJE Films
In Front of the Camera
Stephen Lang (DON'T BREATHE, AVATAR)

William Sadler (THE MIST, TALES FROM THE CRYPT: DEMON KNIGHT)

Fred Williamson (BLACK CAESAR, FROM DUSK TIL DAWN)

Martin Kove (THE KARATE KID, RAMBO: FIRST BLOOD PART II)

David Patrick Kelly (THE CROW, TWIN PEAKS)

George Wendt (CHEERS, FLETCH)
What's It About?
"THE WILD BUNCH meets NIGHT OF THE LIVING DEAD, the film follows Fred (Stephen Lang) and his military buddies as they must defend their local V.F.W. (Veterans of Foreign Wars) post – and an innocent teen – against a deranged drug dealer and his relentless army of punk mutants. These Vietnam vets have been to hell and back, but this will be the longest night of their lives." — RLJE Films
Why You Should Check It Out
For me, one of the most satisfying and viscerally thrilling cinematic plots is the siege scenario, in which an individual or a small group is barricaded or trapped — often in a single location — with overwhelming obstacles and unforeseeable circumstances they must overcome. The great thing about the siege motif is how malleable it is, appearing across a number of different genres; action (DIE HARD), comedy (HOME ALONE), drama (PANIC ROOM), horror (FROM DUSK TIL DAWN), science fiction (DREDD), fantasy (THE LORD OF THE RINGS: THE TWO TOWERS), westerns (RIO BRAVO), you name it.
Like George A. Romero's NIGHT OF THE LIVING DEAD, John Carpenter's ASSAULT ON PRECINCT 13, and Sam Peckinpah's STRAW DOGS, director Joe Begos' pulse-pounding, fist-pumping '80s exploitation throwback will go down as a classic siege movie. It has everything I look for in a movie: grizzled old dudes, drug-crazed mutant punks, improvised weaponry crafted during a "lock and load" montage, a kick-ass synth score, neon-soaked cinematography, and last but certainly not least, head explosions.
VFW's cast is filled with bad-ass genre legends; blaxploitation icon Fred "The Hammer" Williamson (HELL UP IN HARLEM), William Sadler (DIE HARD 2), David Patrick Kelly — whose turn as the vile T-Bird in 1994's THE CROW is an all-timer — but it's Stephen Lang (TOMBSTONE) who does the lion's share of ass-kicking here. Lang sounds like he gargled hot asphalt before every take. Every line is growled until he's finally had enough of the bullshit and lets out a roar, letting you know it's game over for the punks, who have become rabid rage-ghouls thanks to a designer drug called HYPE.
If you want to see some wild shit, Joe Begos (BLISS, THE MIND'S EYE, ALMOST HUMAN) is the guy to call. With VFW, he delivers an epic, exhilarating love letter to the siege picture and, perhaps, the poster child for what POP 'N' PIZZA is all about. This is absolutely the kind of movie you'd take a chance on at the mom 'n' pop video store — after reading that description and drooling over the awesome cover art, how could you pass it up!? — and watch with friends while indulging in only the greasiest, cheesiest pizza.
VFW is available on Digital and up for pre-order on DVD, Blu-Ray, and 4K. For more recent horror recommendations, check out my Top 25 Horror Films of 2019 at Letterboxd.
You May Also Like…
If you like this, you may also enjoy:
Slices:
🍕🍕🍕🍕🍕
Trailer
Sign up now so you don't miss an update, and please tell your friends!