Scream, Queen!
Mark Patton's Nightmare on Elm Street...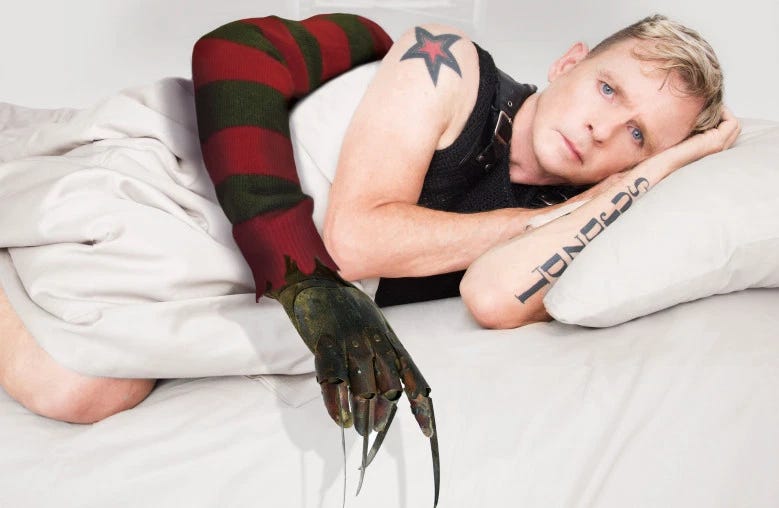 Scream, Queen! My Nightmare on Elm Street
Genre: Documentary

Directed by Roman Chimienti, Tyler Jensen

Release Date: March 3, 2020

Running Time: 99 Minutes

Rated: Not Rated
In Front of the Camera
The cast of A NIGHTMARE ON ELM STREET 2: FREDDY'S REVENGE
Mark Patton (COME BACK TO THE 5 & DIME, JIMMY DEAN)

Robert Englund (BEHIND THE MASK: THE RISE OF LESLIE VERNON)

Kim Myers (HELLRAISER: BLOODLINE)

Robert Rusler (WEIRD SCIENCE)

Clu Gulager (THE RETURN OF THE LIVING DEAD)
What's It About?
"Some have called it the 'gayest horror movie ever made' but for the star of A NIGHTMARE ON ELM STREET 2: FREDDY'S REVENGE, Mark Patton, it was anything but a dream come true. 30 years after its initial release, Patton is hitting the road to set the record straight about the experience that ended his career just as it was about to take off." — IMDB
Why You Should Check It Out
The first time I saw A NIGHTMARE ON ELM STREET 2: FREDDY'S REVENGE as a kid, I had a lot of questions. Why was Freddy Krueger, a goddamn dream demon who can terrorize and murder teenagers in their sleep — when they're at their most vulnerable — attempting to gain entry into the physical world by possessing the body of Jesse Walsh (Mark Patton)? What advantage would Krueger have in relinquishing his sweet dream powers and playing by the rules of reality?
For this reason, I didn't revisit FREDDY'S REVENGE that often. I was invested in the story of Nancy Thompson (Heather Langenkamp) and the world created in Wes Craven's 1984 film, so I would often skip over 2 during rewatches and jump right to 1987's DREAM WARRIORS — the best ELM STREET movie and it's not even up for debate unless you want to tell me your secret favorite is 1988's DREAM MASTER, in which case I totally get it.
It wasn't until some years later when I decided to re-evaluate Jack Sholder's much-maligned sequel that I realized something else was going on in FREDDY'S REVENGE. I always knew it was a queer movie, but I didn't realize it was a queer movie. Sure, it's unusual for a slasher flick to have a young male protagonist, but it isn't unheard of. 1981's THE BURNING, 1984's FRIDAY THE 13TH: THE FINAL CHAPTER (which, spoiler alert, it wasn't the final chapter), and 1986's THE HITCHER all featured "Final Guys." What makes FREDDY'S REVENGE "the gayest horror film ever made," and its star the first male Scream Queen, is its homoerotic subtext, which isn't subtext at all.
Jesse Walsh: Fred Krueger! He's inside me, and he wants to take me again!
The protagonist, who has a gender-neutral name, has a sweaty wrestling match with a hot jock (Robert Rusler as Ron Grady) — literally grappling with his repressed sexuality — before having a nightmare in which he visits a gay bar and bumps into his leather-clad gym teacher (Marshall Bell). His coach is then killed by Jesse/Krueger in the boys' locker room, but not before his bare ass is spanked repeatedly with towels. And lest we forget the scene in which Jesse, having tried to make out with a girl (Kim Myers) at her pool party, panics and takes flight to his male friend's bedroom in the middle of the night.
Jesse Walsh: I'm scared, Grady. Something is trying to get inside my body.

Ron Grady: Yeah, and she's female, and she's waiting for you in the cabana. And you wanna sleep with me.
Needless to say, A NIGHTMARE ON ELM STREET 2: FREDDY'S REVENGE is wild, wild stuff. Despite being a lackluster sequel to one of the greatest horror films of all time, it's far more interesting than we give it credit for. If you haven't seen Sholder's film — or revisited it in a while — you should before checking out SCREAM, QUEEN! MY NIGHTMARE ON ELM STREET. Roman Chimienti and Tyler Jensen's documentary is an insightful, sensitive look at how Patton's role in the film destroyed his career, then became a touchstone for gay horror fans decades later. 
As he travels to horror conventions across the country, Patton reunites with the cast (including Krueger himself, Robert Englund) and crew of the movie and eventually confronts screenwriter David Chaskin, who denied the film's homoerotic subtext for years and claimed Patton had simply played the part "too gay." In chronicling Patton's life story, the film touches upon Hollywood's homophobia, the AIDS crisis and Patton's own struggle with HIV, as well as his work as an LGBTQ activist.
SCREAM, QUEEN! MY NIGHTMARE ON ELM STREET is a must-see documentary for film fans and horror hounds alike and is currently available on Digital and DVD. For more recent horror recommendations, check out my Top 25 Horror Films of 2019 at Letterboxd.
You May Also Like…
If you like this, you may also enjoy:
Slices:
🍕🍕🍕🍕
Trailer
Sign up now so you don't miss a single update!