Housebound 🏠
Revisiting the 2014 New Zealand Horror-Comedy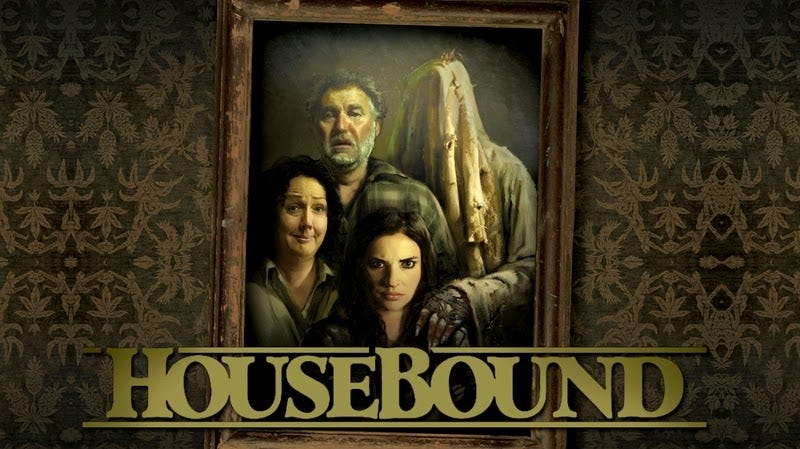 Housebound
Genre: Horror / Comedy

Release Date: March 10, 2014

Running Time: 106 Minutes

Rated: Not Rated
Behind the Scenes
Directed by Gerard Johnstone

Written by Gerard Johnstone

Cinematography by Simon Riera

Music by Mahuia Bridgman-Cooper

Studio: XLrator Media
What's It About?
"Kylie Bucknell (Morgana O'Reilly) is forced to return to the house she grew up in when the court places her on home detention. Her punishment is made all the more unbearable by the fact she has to live there with her mother Miriam (Rima Te Wiata) — a well-intentioned blabbermouth who's convinced that the house is haunted.
Kylie dismisses Miriam's superstitions as nothing more than a distraction from a life occupied by boiled vegetables & small-town gossip. However, when she too becomes privy to unsettling whispers & strange bumps in the night, she begins to wonder whether she's inherited her overactive imagination, or if the house is possessed by a hostile spirit who's not particularly thrilled about her return." — XLrator Media
Why You Should Check It Out
After a withered, gnarled hand grabs her ankle in the basement, Kylie becomes convinced that an intruder is in the house. She soon gains an unlikely ally in Amos (Glen-Paul Waru), an amateur ghost hunter from the neighborhood who just so happens to work for the security company that monitors her house arrest.
Together, the odd-couple paranormal investigators uncover an old unsolved murder that could explain everything. The key to solving this mystery? A set of dentures worn by Kraglund (Mick Innes), the kook next door who's always burning things in his backyard.
HOUSEBOUND's effervescent spookshow navigates twists and turns, bouncing from scare to scare with the kind of infectious energy and enthusiasm of Edgar Wright's SHAUN OF THE DEAD and Peter Jackson's early films like DEAD ALIVE (aka BRAINDEAD) and THE FRIGHTENERS.
Writer/director Gerard Johnstone's debut is a refreshing entry in the haunted house subgenre, taking viewer expectations and genre conventions and flipping them on their head. Its utterly charming, heartfelt moments entirely disarm you, setting you up for its cleverly orchestrated and perfectly timed scares. It's one of the few horror-comedies that delivers on both fronts, offering up gags and gore in equal measure.
HOUSEBOUND is free on Tubi and available for rent on iTunes. You can also purchase Johnstone's movie on Blu-ray. Watch it while you're on house arrest during quarantine for a truly immersive experience.
You May Also Like…
If you dig this, you may also enjoy other New Zealand horror-comedies:
Slices:
🍕🍕🍕🍕🍕
Trailer
Sign up now so you don't miss an update, and please tell your friends!