After Midnight
Love Will Tear Us Apart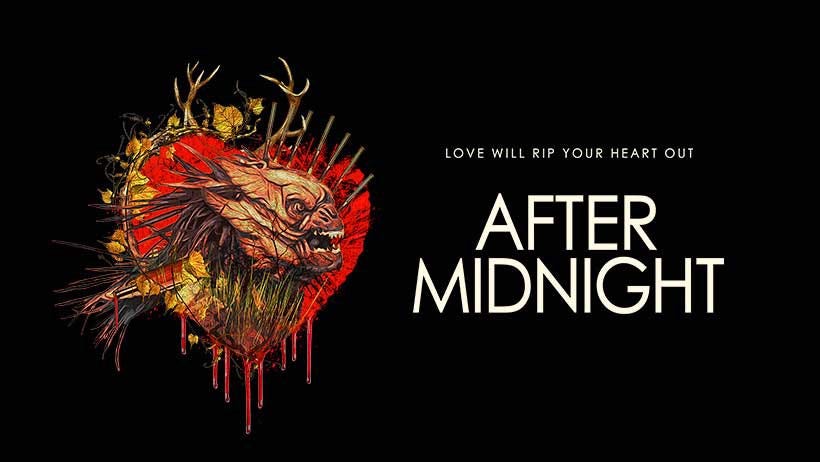 After Midnight (2020)
Genre: Horror / Romance

Release Date: February 14, 2020

Running Time: 83 Minutes

Rated: Not Rated
Behind the Scenes
Directed by Jeremy Gardner & Christian Stella

Written by Jeremy Gardner

Cinematography by Christian Stella

Score by Eric Krans, Jen O'Connor

Distributed by Cranked Up Films
In Front of the Camera
Jeremy Gardner (THE BATTERY, BLISS)

Brea Grant (BEYOND THE GATES, LUCKY)

Henry Zebrowski (THE WOLF OF WALL STREET)

Justin Benson (RESOLUTION, THE ENDLESS)
What's It About?
"Ten years into his small-town, storybook romance with Abby (Brea Grant), Hank (Jeremy Gardner) suddenly wakes up to an empty home. With nothing but a cryptic note to explain why she left, Hank's charmed life begins to fall apart. To make matters worse, Abby's disappearance seems to trigger the arrival of a ferocious creature that crawls out of the old grove on the edge of his property." — Cranked Up Films
Why You Should Check It Out
Jeremy Gardner & Christian Stella are best known for the 2012 micro-budget zombie film THE BATTERY and the 2015 survival comedy TEX MONTANA WILL SURVIVE! With AFTER MIDNIGHT, the filmmaking duo teams up with the producers of SPRING (2014) and THE ENDLESS (2017) to deliver an engaging and entertaining movie that is equal parts creature feature and romantic drama.
Dominated by long takes and static shots, AFTER MIDNIGHT is an intimate examination of heartbreak and existential angst through the prism of an indie horror flick. It's a slow-burning drama punctuated by well-timed scares, with a palpable sense of dread, as scenes play out at an agonizingly measured pace. The camera lingers and the edits are few and far between, leaving you feeling uneasy and anxious — waiting for the moment when the shit hits the fan.
And that's all I'm going to say. The less you know about AFTER MIDNIGHT, the better your viewing experience will be. All you really need to know is that it's a well-crafted, genre-bending movie with empathetic lead performances by Grant and Gardner, a hilarious supporting turn by Henry Zebrowski, and an extremely satisfying ending that delivers on the film's premise.
AFTER MIDNIGHT is available on Digital platforms. On Amazon Prime Video, you can rent the movie for $4.99 or support the filmmakers further by purchasing it for $9.99. For more horror recommendations, check out my Top 25 Horror Films of 2019 at Letterboxd.
You May Also Like…
If you dig this, you may also enjoy:
Slices:
🍕🍕🍕🍕🍕
Trailer
Sign up now so you don't miss an update, and please tell your friends!